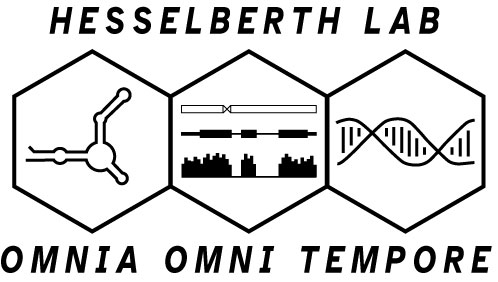 We are a research laboratory of RNA biologists, technology developers, and data analysts focused on discovering and translating fundamental principles of RNA regulation.
A major effort in the lab is to understand how RNA damage and repair are integrated with stress responses by combining method development, bioinformatics, genetics, biochemistry, and cell biology. We developed new sequencing approaches to identify damaged RNAs and new model systems to understand the causes and consequences of RNA damage. Our studies have led to new concepts in post-transcriptional regulation with broad implications for understanding the role of RNA damage and repair.
A second focus is on molecular tools that enhance single-cell and spatial transcriptomic experiments. Our recent advances include the measurement of enzyme activity and inhibition in single-cell assays and tracking protein molecules and measuring associated gene expression responses in animal tissue.
Our newest efforts focus on RNA therapeutics and vaccines. One is a collaboration with clinicians at Children's Hospital Colorado to develop RNA therapies for pediatric neurological diseases, and a second emphasis is on development of mRNA vaccines that promote unique immune responses.
See the projects link above for more detail on these studies.
news
Jul 9, 2023

Welcome to Christina Akirtava, PhD, who joined the RBI Informatics Fellows, and a new PRA, Kelly McEntee.
Ira Fleming was appointed to the Molecular Biology T32 grant.
Jay was promoted to Professor of Biochemistry and Molecular Genetics.
Welcome to three new students Ira Fleming (MSTP > MOLB), Ashlyn Stahly, (MSTP > MOLB), and Jill Bilodeaux (MICB), a new PRA (Kezia Dobson), and a summer intern (Samantha del Pozo from the RBI summer internship).
Farewell to Saylor Strugar, who is joining the University of Wisconsin for graduate school, Rachel Ancar, MD, PhD, who graduated from the CU MSTP and is moving to Mass General Hospital for residency, Mandy Richer, PhD, who took a position at Honeycomb Bio, Tyler Matheny, PhD, who took a position at Sophia Genetics, and Aspen Martin, who took a position with Foresight Diagnostics.
Jay won the CU Anschutz Research Faculty Collaborator Award.
We were awarded a Cancer League of Colorado collaborative award with Linda van Dyk, PhD to study "Immune targeting therapies to disrupt virus-associated lymphomas."

Dec 1, 2022

Catherine Nicholas was awarded an NIH/NIDDK F31 NRSA.
We were awarded an AB Nexus collaborative award with Ondrej Kostov and Marvin Caruthers to study "Gene-specific antisense oligonucleotide therapies for diseases of haploinsufficiency."
We were awarded a CU ASPIRE award with Beth Tamburini, Tem Morrison, and Jenna Guthmiller to study "Mechanisms of immune protection and pathology by lymph node stromal cells."
We were awarded an NIH/NIAID R21 with Ross Kedl to study "mRNA encoding of immune receptor-targeting antibodies for the augmentation of vaccine-elicited cellular immunity."
We won the departmental pumpkin carving competition with a nanopumpkin sequencer, complete with butternut "pore", acorn "motor", and a threaded vine "RNA" (truly a masterpiece).